Bay Area Dog Training specializes in behavior modification and problem solving. We have helped thousands of owners train their dogs into valued family pets. We believe in using guidance, verbal praise and physical affection instead of food to train your dog. Our methods allow you to deepen the bond between you and your dog and create a relationship based on trust and respect. We understand that each person and each dog is unique and we strive to tailor our training to best suit the needs of you and your dog.
Mike Hatjes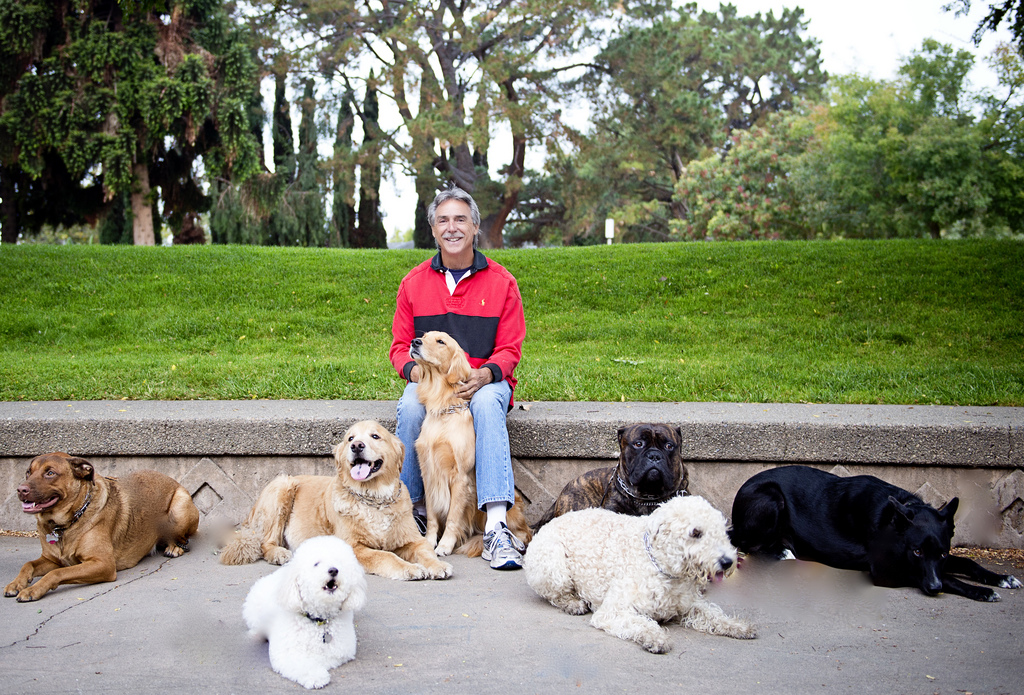 I believe I was born to be a behaviorist and dog trainer.  My primary interest has always been dog behavior and what affects it.
I love dogs. I believe that dogs should add to a family's quality of life. I also believe that you should be able to take your dog anywhere and be confident in your dog's behavior. Of course, this is easier said than done. In the last 30+ years of dog training, I've trained dogs with every behavior issue imaginable and my goal has always been the same- to allow owners to have a deep bond and rewarding relationship with their dog.
For me, the essence of dog training comes down to one thing- teaching you how to have the best working relationship with your dog. Because every dog and person is different, I am flexible in my approach to training. By paying very close attention to a dog's reaction to its environment, I'm able to give you the insight necessary so you can apply my methods of training effectively.
BIO
My family always had dogs. They were considered family members and added immeasurably to the quality of our lives.
When I was a junior at Brophy College Prep I received my soul mate in the form of a six-week old Doberman Pinscher puppy. He accompanied me to Phoenix College and on to Arizona State University where I graduated with a Bachelor of Science degree in Psychology. While attending college I taught my dog, Metus, how to be a protection dog. The process was interesting, exciting and fun. It was during this time when I first began in-home training for John Ball and then The Greater Phoenix Dog Training Academy. That four-year period was monumental for me. I successfully trained hundreds of dogs and grew so much personally from the experience.
After graduating from ASU, I was recruited to Bloomington Indiana by Dr. Glenn Miller to do research and serve as a counselor in his newly developed alcohol detox program. I earned my certification as an Emergency Medical Technician and worked as an EMT for a year. In 1980, Metus and I moved to Campbell, California to attend graduate school. I simultaneously worked at Pate House, a detoxification program for alcohol, and the psychology unit at Valley Medical Center. This work was interesting and rewarding, but I missed working with dogs.
I started Bay Area Dog Training in July 1980. In the beginning, I focused solely on private lessons. Years later, I added group classes because I realized my clients needed a controlled environment to help with socialization of their dogs. This dual approach has helped thousands of people train their dogs into well-behaved companions.
I live in Saratoga with my family and our beloved Yorkie, Fearless.
Competitive showing has never been our focus, though we have trained dogs that have been very successful in conformation and obedience. Including Sue Hurn's Radar, the #1 Rottweiler in the US in 1985 and my own Doberman Pinscher, Jet, who scored 198 out of 200 points in an obedience trial.
Emily
Growing up in the South Bay allowed Emily the opportunity to explore different interests. She rode horses at Garrod Farms for several years and volunteered at Camp Costonoan helping people with mental and physical handicaps ride horses. She swam competitively throughout her life, taught swim lessons and lifeguarded during the summers while she was in college. Emily attended University of California at Santa Barbara and graduated with a Bachelor's of Art degree in Art History with a minor in Italian. She was fortunate enough to spend 5 months studying in Italy during her junior year of college. She took advantage of that time and traveled throughout Italy, and she also spent time in France, Spain and Sweden.
Emily's interest in dog training started when she was training her dog, Sirus. While she enjoyed the process of training, what she really loved was the close bond she was building with Sirus through this work. As they progressed in training, so did Emily's desire to help other people build a strong relationship with their dog. Through Mike's instruction, Emily has learned how to develop quick reflexes, read a dog's signals and what techniques to use to get the best result from the dog. She enjoys teaching people the skills they need to train their dog.